The summer is upon us and it brings Basel the most exciting time of the year, the unmissable Art Basel 2017 edition, which starts June 15 and lasts until the 18th for the general public. The show takes place at the Messe Basel, which includes a hall designed by world-renowned architects Herzog & de Meuron of Basel.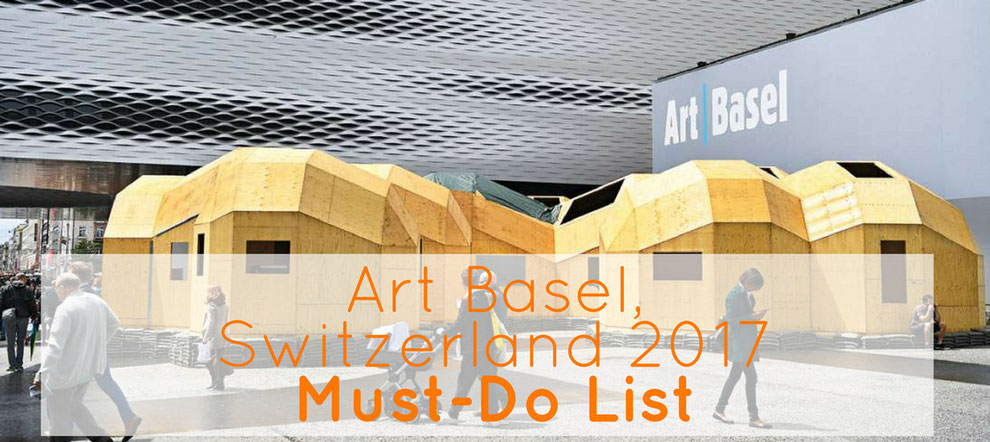 291 Galleries and over 4,000 Artists
Around 100,000 visitors are expected to arrive in Basel for this edition, swarming into the halls and sift through the art either individually or participating in the guided tours offered in English, German and French. This edition of the show will present 291 international galleries, featuring the pieces of over 4,000 artists.
Don't Miss Featured Young Artists and Galleries at LISTE and SCOPE
Other events and exhibitions will take place in Basel and the surrounding area during this same week. The LISTE concentrates on the presentation of young galleries, with mostly young and not very well known artists. Each year around 80 galleries from more than 30 countries present themselves - 10 to 15 galleries will be presented again. The LISTE show, held at the old Warteck brewery, promotes new galleries and helps curate new generations of artists. Another show focussing on young artists and galleries is SCOPE Basel, also taking place during this same week.
Site-Specific Artwork around Basel's "Münsterplatz"
Art Basel has also organized a feast for the eyes within the city, cheekily entitled "Parcours". Samuel Leuenberger, Director and Curator of SALTS in Birsfelden, Switzerland, has organized this for the second year, presenting 22 site-specific artworks around Basel's historical Münsterplatz. This feature will begin Monday, June 12 too and go until Sunday, June 18. On the Saturday (June 17)  Parcours Night will take place, with live performances held to honor this initiative.
If this tsunami of art is not enough for you, rest assured Art Basel will leave you with a smile on your face anyway. The 48th edition of this show will not disappoint, with every corner of the city dripping in champagne and luxury. The city boasts a plethora of upscale restaurants ranging from the Chez Donati, owned by the Grand Hotel Les Trois Rois, on St. Johanns-Vorstadt 48, 4056 Basel, Switzerland. If what you're looking for is impeccable service and the finest Italian fare, look no further. Looking for something (even) more upscale? The same hotel boast a 3 michelin star studded restaurant, Cheval Blanc, where the food is as opulent as the decor.
Not that splurging is necessarily a requisite in the city, where every street is studded with bakeries, bistros and cafés serving local fare that holds up to Swiss standards. Brotli Bar and Restaurant Hasenburg are two excellent choices if you're seeking tradition and quality.
Meet the Stars in the Coolest Bars and Clubs
Be sure to make the most of your trip by spotting the stars in the city's coolest bars and clubs. To get a bird's eye view of the city, visit Bar Rouge, sitting atop the Messeturm at a staggering 105 meter height! Kunsthalle is a must, as it is attached to the city's contemporary art museum and offers some of the city's wildest night fare. If you're looking for something a little more relaxed and al fresco, be sure to visit Campari Bar, sitting behind the Tinguely fountain in the city center, and featuring a cozy summer terrace serving delicious cocktails.
And if you are a jazz lover, don't miss the Bird's Eye Jazz Club (Kohlenberg 20 Google Maps Link). Guests as well as musicians appreciate the intimacy of this small arch-shaped club with an excellent acoustic and the bar offers a large variety of outstanding beverages.
Pamper Yourself
Last but certainly not least, don't forget to pamper yourself amidst all the wining, dining, and general merriment! Be sure to book a day at the spa and get a facial before the event to look and feel your freshest, and detox with our famous deep tissue massages after the event. Remember to get a wax, LPG or sugaring the day before Art Basel begins, to avoid any redness during the event. With everyone in the city all dolled up, you will also not want to neglect your nails, this is not the time to go without a perfect manicure and pedicure (we suggest OPI GelColor nails that will not need to be retouched, even after a vigorous night out dancing) :) Do you want to book a slot for an exclusive cosmetics or spa treatment in the city center? Contact us here.
And most of all, enjoy!
What else do You think should go on our Art Basel Must-Do-List?
Let us know in the comments below.